What to Expect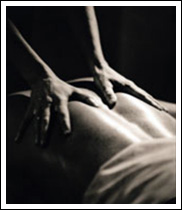 Please inform me if this is your first massage and, if possible, plan to arrive 15 minutes early.
Most massages are performed with the client undressed and under the sheets. Only the area of the body being addressed will be undraped during the massage. Wearing undergarments is perfectly acceptable if that is more comfortable.
Health History Form
If this is your first appointment with me, you will be asked to fill out a short Health History Form and we will spend a few minutes talking about your goals for your massage session. This should only take 5-10 minutes. To save time, the Health History Form can be printed from this website, filled out and taken with you to your first appointment.
CANCELLATION AND NO-SHOW POLICY: Cancellation and rescheduling must be done 24 hours in advance. You may send someone in your place and/or I will try my best to fill your appointment. If your appointment cannot be filled, you will be billed the full price of your massage. If you arrive late, you will receive massage for the remainder of your scheduled time.
Hours of Operation
By appointment only: Tuesday & Friday, 9:30am - 5pm; Wednesday & Thursday, 9:30am - 6pm; Saturday, 9:30am - 2pm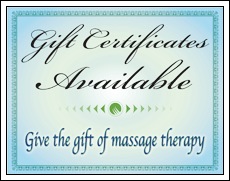 Gift certificates are available, so why not give the gift of massage therapy?
Please contact me for more information if you would like to purchase one.
Massage can be the perfect gift for any time of the year!
Now accepting credit and debit cards!