Welcome to my site!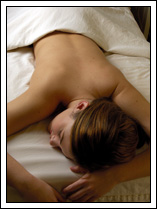 Massage therapy can help to relax muscles, as well as significantly ease and soothe the daily aches and pains that we put our bodies through. Massage therapy can rejuvenate and restore balance to our physical and mental health. I believe every body deserves a great customized massage, and it is important to me to help everyone achieve their physical best.
Massage Therapy Can Work for You!
Whether you're looking to relieve stress or you're interested in getting some much needed relaxation, I offer flexible scheduling and affordable prices that help make enjoying a little slice of heaven easy any time you like!
Now offering Personal Training sessions!
This spring, I became a certified as a personal trainer through the ISFTA. We all know that regular exercise can keep us healthy, but some of us need a little guidance. Let me help you achieve a strong and balanced body! See the Personal Training page for more details!
So please take a little while to look through my web site and decide if massage therapy is right for you. If you have any questions or concerns, please let me know. Thank you!
Kindal Blattner-Buterin
North Carolina Licensed Massage Therapist #9039